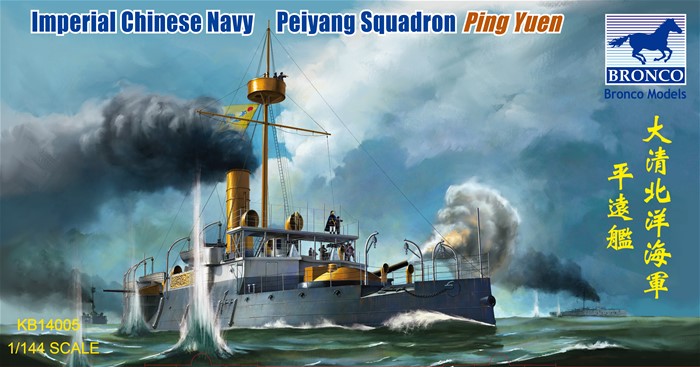 Imperial Chinese Navy Peiyang Squadron Ping Yuen
产品编号:KB14005
模型种类:World Warship
模型比例:1/144

"Pingyuan" offshore defense armored ship
Coast Defence Ironclad
H.I.M.S. Ping Yuen
This ship is the first steel armored warship designed and built by China itself, and the first such warship created by an East Asian country. After the Sino-French War in 1885, Minister of Shipping Pei Yinsen, in view of the lessons of the defeat in the Battle of Majiang, determined to create armored warships to increase maritime power, and was approved by the Empress Dowager Cixi. This ship is based on the French Navy's "Huangquan"-class armored gunboat as its reference model. It has been designed and improved according to the actual conditions of the coast of China. The hull is an all-steel structure, and steel armor is laid on the waterline belt. The steel used is purchased From the Creusot Works in France.
The ship started construction on December 7, 1886 in Foochow Arsenal, construction number 29. Shipbuilding engineers Wei Han, Zheng Qinglian, and Wu Dezhang were responsible for the design and overall supervision of the hull. Chen Zhaoao, Li Shoutian, and Yang Lianchen were responsible for the design and supervision of the power system, 1888 It was launched on January 29, 1890 and transferred to the Beiyang Navy. The ship was originally named "Longwei" in the Foochow Arsenal, and the later minister of the Northern Oceans Li Hongzhang planned to rename it to "Yuyuan". The cause and the Nanyang Navy ship were renamed, and the ship administration "Pingyuan" sail training ship was renamed. "Ping Yuan".
Due to the late incorporation into the Beiyang Navy, the ship was not organized in the Beiyang Navy. The military expenses were paid from the navy's yamen, and the public expenses were evenly shared from the Beiyang Navy's other naval fleets. The captain was Li He. After the ship was incorporated into the Beiyang Navy, it was remodeled at the Lushun Dockyard, and important changes have taken place in the position of the ears and the configuration of weapons. In the Sino-Japanese War of 1894-1895, the ship participated in the Yellow Sea battle and the Weihai defense battle. In the Yellow Sea battle, the ship had won the record of damaging the Japanese "Matsushima", "Itsukushima" and "Seokyeong Maru".
After the Beiyang Navy was defeated in 1895, the ship was captured by the Japanese army on Liugong Island and incorporated into the Japanese Navy, still using the name "Pingyuan". It was designated as a security training ship in 1896, and was changed to a first-class gunship in 1898. In 1904, it participated in the Russo-Japanese War in the Third Fleet of the Japanese Navy and implemented a blockade of the Russian army along the coast of Lushun. In addition to the explosion and sinking of a Russian mine near the bay, he was expelled from the Japanese army on May 2, 1905.
The main parameters:
Displacement: 2100 tons
Main dimensions: 59.99 meters long between the verticals, 12.19 meters wide, and 4.4 meters draught at the stern
Main engine: 2 Foochow Arsenal built three-cylinder and three-expansion steam engines
Boiler: 4 round high pressure coal-fired boilers built by Foochow Arsenal
Work rate: 2400 horsepower
Speed: 10.5 knots
Armament: 260mm caliber 35-fold Krupp gun × 1
150mm caliber 35-fold Krupp gun x 2
57mm caliber Hotchkiss gun×2
37mm caliber Hotchkiss gun×4
37 mm caliber Hotchkiss 5-barrel cannon×6
Armor: Waterline belt armor thickness is 127-203 mm
The thickness of the gun mount armor is 127 mm
The thickness of the armor of the gun cover, the thickness of the armor deck is 50 mm