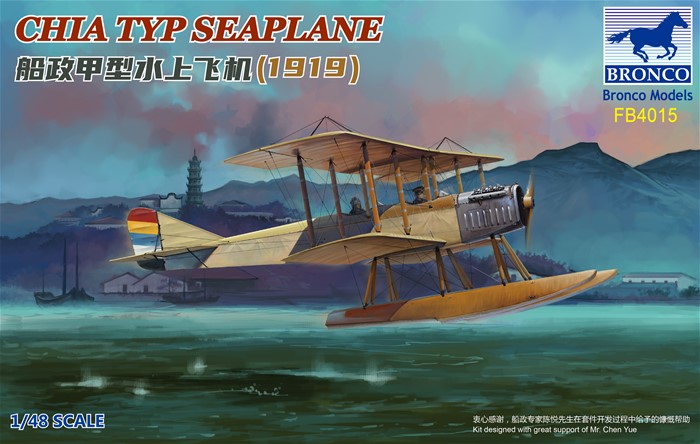 CHIA TYP SEAPLANE
产品编号:FB4015
模型种类:Military aircraft
模型比例:1/48

After the First World War, the Navy of the Republic of China was determined to develop naval aviation in view of the great military value of aircraft. Promoted by Liu Guanxiong, then chief of the navy, the Aircraft Manufacturing Engineering Office was established in Fuzhou Shipping Bureau in 1918. This organization is China's first systematic aircraft design and manufacturing department. The "Chia" is the first aircraft created by it and the first independently developed naval aircraft in China.
The "Chia" type is a double-wing, double-buoy, and two-seater seaplane. Both front and rear seats are equipped with driving control equipment, which can be used for coaching, reconnaissance, bombing and other purposes. This model was designed by Ba Yuzao, Director of Aircraft Manufacturing Engineering Division, Wang Zhu, and Zeng Yijing, Deputy Directors, etc. It is very similar to a mass-produced aircraft "Boeing C" designed by Wang Zhu for Boeing in 1916. At the same time, it referred to the design advantages of the world-famous Curtis "Jenny" aircraft at the time.
The skeleton of the "Chia" aircraft is made of fir produced in Fujian Province, with camphor wood and white chestnut wood as reinforcements, the fuselage and wing skins are made of Irish linen, and the surface is painted with Fujian lacquer. This type of aircraft has mature design and excellent performance, representing the strength of China's independent research and development aircraft at that time. Due to insufficient naval funding, only 3 prototypes were manufactured, namely the "Chia Typ" made in August 1919, the "Chia Typ Two" made in August 1920, and made in February 1921 "Chia Typ Three". The "Chia" aircraft was built in the shipbuilding Tieweng Factory building left over from the Qing Dynasty, and the workshop still exists today.The main parameters.
Crew: 2 Length of fuselage: 9.32 meters, Wingspan: 13.7 meters, Height of fuselage: 3.88 meters,Net weight: 836 kg Total weight: 1063 kgEngine: 100 horsepower Curtis OX-5 type V8 liquid-cooled engine × 1,Maximum speed: 126 km/h Cruising speed: 104 km/h,Range: 340 kilometers, ceiling: 3690 meters, fuel capacity: 114 liters, armed: 4 bombs.